Edina East High School
Class Of 1980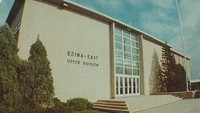 Message Forum
08/08/10 04:55 PM
#9

I second Katie and thank her for talking me into attending. I too had a ball and loved getting caught up and even meeting new peeps.

The venue and food and music were all perfect. Thanks guys for all the hard work....it was a huge success!

Too bad we all need "cheaters" now in order to read the damn name tags though!!

Thanks again all who helped out!

Leslye (Hut) Phillips
08/08/10 05:44 PM
#10

You guys rock - all of you.

Thanks to everyone who came and contributed to the reunion. Being able to get back together with the people who have known you the longest is priceless. The further down the road we go, the more important it is. I honestly can't think of a better group of people to be on this journey with.

I can't count the number of positive comments I received about the website this week and I'm glad it has been fun for people to use, and made it easy for us to to keep in touch with each other. We're planning on keeping it going. Just because the reunion is over doesn't mean you can't check back and maybe even update your profile periodically.

I'll get pictures up as soon as I can - watch for a new Photo Gallery link on the menu.

Thanks again to everyone for a fantastic weekend. Now I am going to go take a nap. :)

Grant
08/08/10 06:33 PM
#11

Grant & Company:

GREAT reunion!

every get together is better than the previous; people are already hoping/wondering if there's going to be a 35th.

while the link below may ignite memories of the chaotic mayhem that ensued following the southview talent show circa 1975, i'm confident those 'who were there' might welcome a glimpse down memory lane;

mere reflections of the talent dispensed by the now Mrs. Henry . . . Mrs. Swenson, . . . and who the hell was the 3rd sucker talked into it ?

(poor rendition below of that crazy night at southview, and certainly not to be confused with the original)

was anyone else 'there'?
08/08/10 09:38 PM
#12

It was a great weekend that blew by way too fast, just like the last 30 years! Many thanks to the Committee Patti Cameron Alt, Nancy Barnard, Grant Henry, Juli Wunder Simmons, Jen Stein Schumann, Gretchen Allen Sewich, Mary Williams Krieter, Anne Davis Langholz, Katie West Bassett and any others I hope I haven't forgotten. Best of luck to everyone for another five years!!

Todd
08/13/10 04:57 PM
#13

Hi everyone-

it is fun to read your responses about the event since I missed the party. Charlie Kolars still has that great sense of humor. Please, Please plan another reunion in 5 years. I promise to come.

I was also very touched by Mark Brennan's story about Matt Comstock. The story had me curious as to who could have been the cool guy. It was Matt! More than cool, Matt was a warm, sweet soul. He was so good to everyone he met!

Well school is beginning for my boys. I will return to being the homework gestopo and I hate it. But my kids are much more prepared and have much better grades than I ever did.

Have a great Fall. FALL?! It is still 90 degrees here on sunny Key Biscayne :D

Suzanne
08/27/10 06:49 PM
#14

Hello to all:

Wow, what fun! Sorry I had to miss out as it appears everyone had a GREAT weekend. I would love to help if there is a 35th. If anyone is ever in the Seattle-Vancouver, BC area, give me a call. My numbers are listed in classmate profiles. (If I don't answer straight away I am flying, but promise to return all calls) I would love to play tour guide as we live in an area that offers World Class skiing, boating, fishing, hiking, biking, etc. As well, I "discovered" running @ age 40 so I know all of the great short and long distance runs in the Bellingham area.

Best wishes to everyone!

Theresa Quinn-Oien
08/31/10 07:53 AM
#15

Hi all,

Thank you for a great party - it was so good to see everyone!

xx Melinda (Ziegeweid) Nelson
09/20/10 12:07 PM
#16

Hi all,

Does anybody have an old cheerleading uniform I can borrow for an evening? I'm going to a "Come As You Were" party this Saturday!

xx Melinda
09/20/10 08:56 PM
#17

have you checked with pat wise?
07/21/13 01:46 AM
#18

I can't rember how I dated?
07/21/13 01:47 AM
#19

I just skated
03/22/15 06:48 PM
#20

Can't belive 35 years since we graduated. I work with nurses that were not even born when I graduated from high school. I guess your only as old as you think you are. Hope everyone is having a good year.
04/04/15 03:31 PM
#21

The dates for our 35th reunion have been set! Friday October 2 - Sunday October 4 is our weekend. Check your calendar and circle it, because we hope to see as many of you as possible!

The response to our survey was tremendous - almost a third of you participated, and the fall option was a pretty clear favorite. However, the specific September date we suggested turned out to have some unforeseen complications, so we got breathtakingly creative and chose a different fall weekend.

Details for activities are still being finalized. We have reserved Brit's Pub in downtown Minneapolis for Saturday night. Gatherings for Friday and Sunday will also be arranged, offering something, we hope, for everyone.

Thanks to everyone who has offered to help - watch for more details coming out soon!
08/11/15 11:53 AM
#22

W

Check out this amazing space! Hope to see everyone at Brit's Clubhouse on October 3! Overlooking the Nicollet Mall...comfy couches, a dance floor and an awesome bar! The perfect spot to catch up with old friends!! Take advantage of early bird prices and register today!!
08/28/15 09:47 AM
#23

Hello Everyone...

The reunion is just over a month away. We're putting together a slide show for the event.
Please send pictures that you would like to have in the slide show. We want LOTS of pictures.
Send pictures to EEHS1980@gmail.com

Also, check out our class group page on Facebook - Edina East class of 1980 https://www.facebook.com/groups/1422551394717856/

And follow the class on Instagram at EEHS80


Looking forward to seeing everyone at the reunion!!


08/31/15 10:54 AM
#24

We're busy planning a fun weekend 10/2-3. We hope you can join us!
09/17/15 11:26 AM
#25

It's the final countdown to our reunion and we're finalizing all the plans for a fun weekend. There's still time to sign up! Look forward to seeing you in a couple of weeks.
09/30/15 11:33 PM
#26

I look forward to seeing everyone at the Reunion! I hope everyone is doing well! I also hope everyone knows Jesus as their savior as well! He said He was the only way to Heaven and I beleive Him ( Matthew 14:6 ). Not a classmate I don't want to see there. We are rapidly approaching a time of great trouble spoken of by Jesus and the Prophets ( Jeremiah 30:7 & Matthew 24:21) that most likely will be in our lifetimes. Ultimately, Jesus will be the only protection from and deliverance through that time. Get to know Him! He will not turn away ANYONE who comes to Him (John 6:37 )!
10/01/15 11:29 AM
#27

This will be the first reunion that I will miss since we've had them and I'm sure a great time will be had by all who get to atttend! My oldest daughter is getting married on Saturday so I have a pretty good excuse for not being there.

We had a great class and I realize that we were all fortunate to be a part of that. I hope those lucky enough to make it to the reunion enjoy the weekend and time together! Thank you to those who work countless hours behind the scenes to always make these the great events that they are!
10/01/15 06:30 PM
#28

To Tom Brown: I'd appreciate you not presenting your religious or spiritual perspective to me this weekend. Thanks. Jana
10/02/15 09:52 AM
#29

Green and White's Outa Sight. Class of '80's DYNAMITE!!




10/03/15 03:59 PM
#30

Jana I think you owe "Brownie" an apology
10/04/15 10:27 AM
#31

I know we owe big thank you's to everyone who put together another great reunion. What a fun evening sharing school stories and life experiences. Then the dancing broke out. We've still got it going on!

I hope we all paid for those committee "meetings". Thank you!

Todd
10/04/15 05:49 PM
#32

What a great weekend! so much fun ! Thanks again to Sully and Joe for the tailgate Friday night .great job boys! - Saturday night was a ball ! Thanks to our DJ (Patti and Tim Alt's son) the dancing was awesome.A special thanks to those who came into town for the reunion. We have a great class!

"Nurse Mary"

Mary Shelton
10/07/15 08:45 PM
#33

Our 35th reunion is in the books, and what a weekend it was!

Thanks to everyone who attended, especially those who travelled from out of state: Wisconsin, Illinois, Texas, Georgia, North Carolina, New York, and Washington! We cooked out and braved the Friday night chill, cheering the Hornets football team against Wayzata ... then took over the back bar at Bunny's, closing the place down like it was 1989. Then 80+ of us cut loose on Saturday night at Brit's in downtown Minneapolis, eating, drinking, chatting, laughing, dancing, and keeping our awesome photo booth photographers busy.

Between these events, we gathered with good friends in smaller groups at various places around the cities, reminiscing, catching up, and sharing our plans and dreams for the next phase of our lives.

We have heard nothing but good things about each of the events, and we are thrilled that everything seemed to go off without a hitch and that everyone had a great time.

Events this big don't just happen, they require a lot of planning, energy and commitment, as well as a strong volunteer spirit. We want to make sure to recognize and thank all of our classmates, children, spouses, and friends who pitched in to make it all happen. So a big thank you to:

Tom Sullivan and Joe Hayes, who handled all the arrangements for our Friday night tailgate: rented the tents and tables, bought all the food, brought the grills, grilled the brats and burgers, bought the game tickets, and cleaned everything up while the rest of us just hung out and talked.
Pam Busdicker Dionne, who made sure that Bunny's was ready for us on Friday night and that they scheduled the "right staff to handle you guys" (whatever that meant)
Cooper Alt, our DJ for the evening who brought his gear and his playlists (put together with the help of Kipp Manske, Mike Barnard, Juli Wunder Simmons, Tim McCarthy and many more I am sure). Cooper, your parents said you would be cool, but we had no idea.
Jennifer Simmons and Evan Davis, who sat behind the registration table on Saturday and welcomed you, made sure you got the right name tag, and hounded you pleasantly for money if you had forgotten to send in your check
Dave and Anne Davis Langholz, who set up our amazing photo booth, took the pictures, then photoshopped the results just enough to make us feel good
Juli Wunder Simmons and Gretchen Allen Sewich, who supplied props for the photo booth, the photo slide show for the big screen TVs, and general decorations for the room, and also kept our class Facebook group humming
Tom and Jennifer Shea Hedberg, who created the fabulous ice lantern/pumpkin centerpiece for the entrance table and printed a large format version of our 20th reunion group photo to hang on the wall
Tim McCarthy, who made a very generous donation to the class to offset the costs of the class website and credit card processing fees for our online payments
Linda Yaeger Condon, Connie Ives Anderson, Mary Shelton, and Tim Alt who served cheerfully on the planning committee and helped out in countless ways to brainstorm and organize the events
Robin Baird Zieper, who wasn't able to attend the reunion but who set up our class Facebook page
Nancy Sayler Barnard, Patti Cameron Alt, and Grant Henry, who led the charge, kept everyone on track, showed up habitually late for meetings, sent a lot of texts and emails, and had to go to Brit's A LOT to keep sampling their food and beer

Anne has been posting photo booth and other photos to our class Facebook group, and we hope to have them all up on the class website by this weekend.

Once again, our deepest thanks to everyone who came to the reunion or helped out in any way. We have a terrific class and it's fun to kick back every 5 years and celebrate how far we've come!

Your 35th Reunion Planning Committee
| | | |
| --- | --- | --- |
| | | |